Lodha Group
World One Immersive Experience
CHALLENGE
Lodha Group is one of the largest real estate builders and developers in Mumbai. The client wanted an interactive sales experience to seduce potential buyers for World One, which, once built, will become the world's tallest luxury residential tower.
Emotion often plays a decisive role in residential real estate. But seducing buyers with mere pictures and plans is a challenge for developers. Our team helped Lodha Group overcome this barrier with a custom-built circular sales center that takes potential buyers on immersive visits so realistic, they feel they are already living in the completed and fully decorated building. Even better, our mixed reality sales center cost less than a conventional sales center.
SOLUTION
To achieve this impressive feat, we put our CANVAS interactive media server and game engine technology to work. The result is a fully immersive experience worlds beyond a simple video projection. Buyers can explore the tower in vivid detail, both inside and out, as if it were already built – without the need for isolating VR goggles.
When they walk into the living room, they can change the channel on the TV broadcasting live programming. When they look out the window, the view of the city is exactly what they will see once the unit is built. When visitors step into the bathroom, they see themselves in the mirror. Achieving a level of realism and dynamism that provides the full experience of living in the tower makes for a highly personal – and convincing – visit.
RESULTS
All units sold in 3 years instead of 5.
Client still using sales center to prove fidelity between vision and execution.
Wow factor: Sales center became a "must-see" in Mumbai.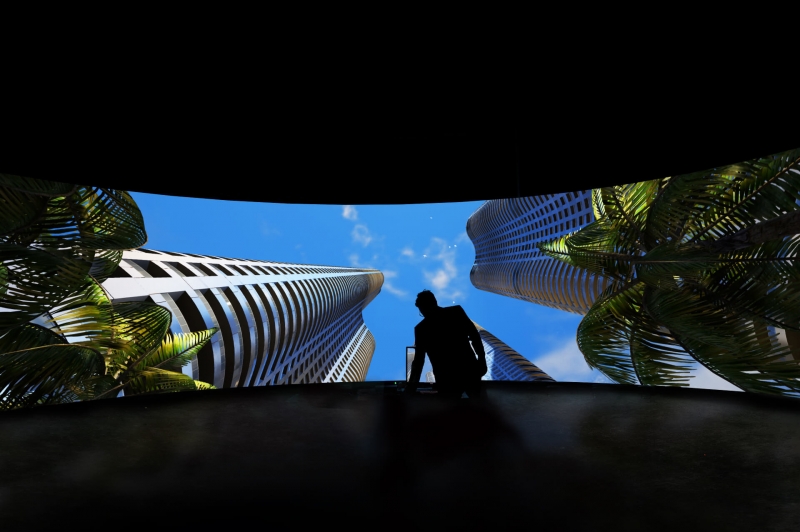 "The media layering and presentation capabilities of CANVAS is yielding a virtual real estate exploration and buying experience like no other."
NVIDIA press
Explore life-sized interactive scenes portraying more than 70 different interconnected spaces.
"Canvas enables audience members to interact with one another and their virtual environment simultaneously."
exportwise.ca