MAC, MOMI
Realtime Unreal
CHALLENGE
For the grand reopening of its $67 million redesign and expansion in 2011, NYC's MOMI was seeking artists and creative collaborators to exhibit work to mark the big occasion. Our team was commissioned to develop the main piece of the museum's Real Virtuality exhibition.
SOLUTION
As its name suggests, Realtime Unreal addresses the notion of what is "real" and what is "unreal".
Imagine walking into the freshly redesigned MOMI. In the center of a large, empty room hangs a massive two-sided screen presenting double stereoscopic images of the museum's architecture. As you move in front of and around the screen, the projected abstractions of the building dynamically reconfigure. Needing to understand your surroundings, your mind attempts to bridge the gap between what your eyes perceive and what you believe is unreal. Meanwhile your unscripted choreography is being watched by other museum goers as they await their turn to explore this vertigo-provoking hybrid physical and digital realm.
IMMERSIVE provided the unique real time, game engine and position tracking technologies and technical support to realize the project, which was visited by over 100,000 people in the first two weeks of opening. The project was also later adapted for an exhibit at the Musée d'art contemporain in Montreal, receiving wide acclaim from local media.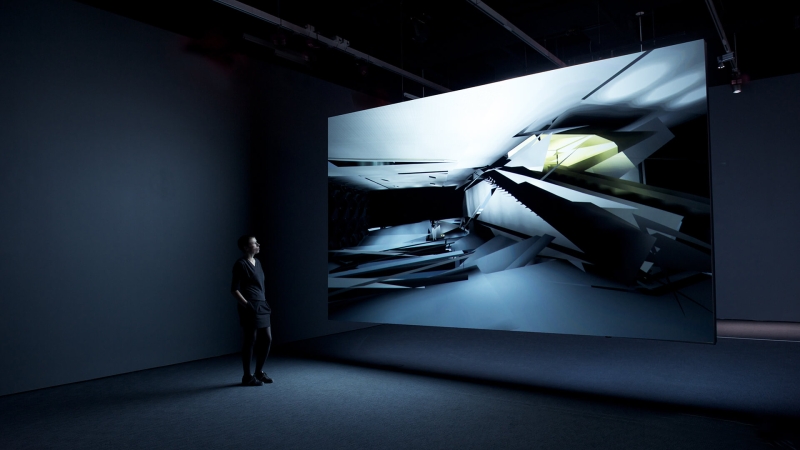 "RealTime Unreal plunges us into an almost destabilizing state of floating somewhere between the real and the unreal. As the ever expanding and transforming hybrid spaces and sound environment generate new representations, it leaves the observer with an almost giddy sense of loss of reference points."
FR.CANOE.CA
"Intense and enigmatic."
LA PRESSE